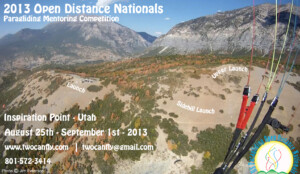 Aug 24:
Practice day
7 pm: Mandatory Pilot Briefing Meeting at Headquarters

Aug. 25 – Sept. 1:
Competition
Inspiration Point (Squaw Peak Lookout) Provo Utah

Jupiter Launch

Monroe Launch

2230 N University Pkwy
Provo, Utah, 84604-1509, US
Phone: 801/373-7044
Fax: 801/375-5240
No declared goal. The competitors fly as fast and far as they can in the set task. The tasks may or may not have turn points and there may or may not be an artificial sunset declared.
Spot locator (or similar satellite device) with live tracking

GPS with computer cable

Reserve and helmet as per USPHA rules

Ham radio capable of transmitting and receiving on all USHPA frequencies

USHPA and UHGPGA membership (available at registration)
USHPA Open Distance Nationals.

Open Distance with probable turn points and possible artificial sunset

Downloadable waypoints (may be changes)

Downloadable pilot's manual

P-3 or higher with turbulence, xc, restricted landing field, and high altitude sign off.
USHPA Open Distance competition rulebook.
National OD Champion

Women, 1, 2, 3

Sport Class 1, 2, 3 (EN D and under, no modifications)

Serial Class 1,2,3 (EN C or under, no modifications)

Event Organizer & Meet Director – Ken Hudonjorgensen

Score Keeper – David Wheeler

Safety Committee – TBA

Weather Guru – Chris Galli / XCSkies.com

Task Committee – TBA & Bill Belcourt

Launch Director: Zak Hargraves    970 799 1111

Retrieval Coordinator: Judy Whitmore      435 979 8217

Task Committee: Chris Galli, Dave Nelson and Ken Hudonjorgensen 

Safety Officer: Zak Hargraves – 970-799-1111

Safety Committee: Zac Hargraves, Ken Hudonjorgensen, Dave Nelson, David Wheeler, Chris Galli

Protest Committee: Neil Hansen, Chris Galli, Dave Nelsen.

Volunteer Coordinator: Terri Olson

         Judy Whitmore (Retrieve)

Total cost will be $495.00
Pay via Paypal, Check, or Money Order to:
Two-Can Fly Paragliding
474 E. Tonya Dr.
Sandy, UT 84070
801-572-3414
Provided from hotel to launch and from landing back to hotel. Relaunch allowed till 4pm.
Retrieval provided.
If you bring a large vehicle and driver for retrieval, we will pay for your gas during the event and your entry fee. Must be arranged with us before you arrive.
Parking limited at launch, please use shuttle vehicles from hotel.
Volunteers & Wind Technicians
Needed and Greatly Appreciated!
The US Paragliding Open Distance Nationals is made possible through the co-operation of the US Forest Service , USHPA, UHGPGA, and Two-Can Fly Paragliding.